Well today we went for Hayden's 2 month check up. She weighed 11lbs 13oz (75th percentile) and was 23 1/2 inches long...which is a 2 inch jump from last time :) She is still in the 90th percentile for her height! She's gonna be a tall girl that's for sure. The doctor said she looked great and not overly chunky for the amount she has been eating, so she gets to start on cereal!!! I can't believe this! She is growing up so fast! Everything checked out fine, she has had a little cold which she is now over. Then the terrible part...4 shots in her chubby little thighs. She turned deep red and did the silent cry. She only managed to breathe twice during the ordeal. I wanted to bawl right there with her. I soothed her and she was out cold before we even got to the car. What a trooper! Poor thing. She didn't even see it coming. The doctor also said she could be in the early stages of teething!!! AHHHH! Teeth already!! Oh my goodness! Her little life is just flying by.
So now we are home, she has had her first cereal bottle and seems to love it, had some infant tylenol and is sacked out. What a day she has had already and its not even noon.
In other news, she is an offical crib sleeper and she is in her own room for good!! She has done so well and has been sleeping LONG hours. Its great!!! I had to wake her up this morning to go to the doctor at 8:30. What a bummer, I wonder how long she would have kept sleeping.
This weekend, she stayed with Daddy for one whole night by himself, while I went to College station with my parents, and they did great! She even slept until 5 am for him! Then she stayed with her grandparents while we all went to my cousin's wedding which was so beautiful!!
Last night we bundled up to go get our Christmas tree, and got there and no one was there to sell us one, so we are going to try again tonight or tomorrow. I have been dying to get my tree up!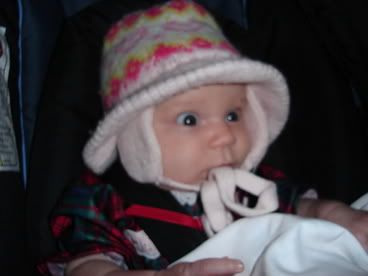 Everyone enjoy this weather that finally feels like December in Texas :)