Whew, it has been crazy over in my neck of the woods. That's why I haven't posted much. Friday was our first Christmas program at church. It went really well and there was a nice audience too. Then Saturday BJ and I went separate ways and knocked out our Christmas shopping. Then Sunday was my parents 25th anniversary celebration (their anniversary was Monday) and so that was really nice. We had a reception for them at church and then lunch with family that afternoon. I was pooped from the weekend let me tell ya. Then Monday Hayden started sounding congested. I thought she might just be teething, but Tuesday she sounded a little worse and by Wednesday I was concerned, so I took her to the doctor yesterday and good thing I did. What we all thought, including the nurse, was just a "teething cold" turned out to be a respiratory virus called RSV. They were concerned about her, because for an adult RSV is no big deal but for an infant it is like asma. THey said is she had not come in she could have been in the ICU by this weekend. I was freaking out. She was having a rough time breathing and had developed a cough. Plus she had gotten two ear infections from it. What a bummer. So they gave her an antibiotic for the ears, a steroid to decrease the inflammation in her lungs and a breathing machine to do every 4 hours. Let me tell ya, a two month old baby does not like a mask held over her face for 15 minutes. Even if it does have a purple rhinocerous face on it.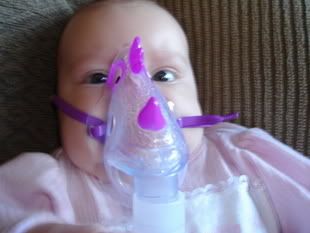 So it has been a long couple of days, and poor thing is sick for her first Christmas. So we don't know what our plans will be right now. As of now we are just going to stay home because she is contageous and plus she doens't need to be out and about. Oh well. Just keep her in your prayers. The good thing is she has been all smiles through the whole ordeal. What a little content baby. Happy even when she can barely breathe.
Hayden talking to Daddy on the phone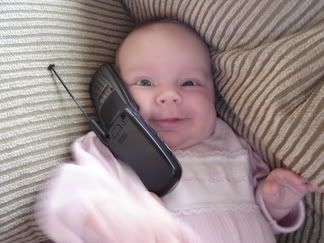 I hope you all have a wonderful holiday and new year!! Here is a new pic of her from Sunday with her Christmas pancho on. What a cutie!!