We had a fun weekend. Hayden let us get so much stuff done on Saturday that we had been wanting to do around the house. She slept her normal 9-7am Friday night and then took some long naps on Saturday while we cleaned the house, and talked about a bunch of upcoming stuff that needed to be taken care of. Very productive weekend. Then Sunday, bj didn't feel so well, so he stayed home and Hayden and I went to church and then to the Harvest fest afterwards. It was fun and there was a good turnout.
This week if Hayden sleeps through the night every night like she has been we are going to put her in her crib next week :) So exciting!!
Oh...great news..I got invited to play on a softball team starting up in the spring. I am so excited because some of you know how I LOVE softball :) Now I will get to play again. I need to start practicing since its been a while since I played last.
Here are some updated pics of Hayden :)
Hayden and Aunt Deb at the basketball game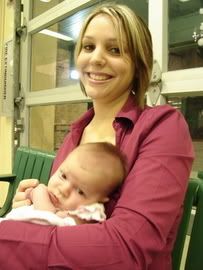 Hayden and Mommy - Harvest Fest '05