Well they didn't check me, very disappointed, so I will have to go another week without knowing if I have even dialated a teeny weenie bit. So we have one week to make some progress :) I hope hope hope they have good news for me when I go next week. Everything looked good like normal. So, one more week to go till the funness begins.
I did get a new haircut today.....very short and easy to manage. I like it, but want it to grow out just a little and then I will really like it, its a little on the too short side, but that's ok, it just means I can go longer without having to get it cut again!!!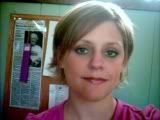 Hoobie had a Chik-fil-A sandwich today. I got home and put my bag of a half eaten sandwhich on the chair and went to use the restroom and came out to find the bag on the ground with Hoobie beside it. He had bitten through the bag and the paper around the sandwhich and pulled the chicken off and was devouring it. He looked so guilty and started curling into a ball when he saw me. At least I wasn't hungry anymore!