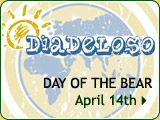 Whahoo, today is Dia del Oso...The day of the bear. we get the day off of school and its basically a big collegiate field day. they have festivities, games, food, Battle of the Bands, etc. Great way to get your mind off of all of the overwhelming ness going on. Have we ever actually gone...NO. I usually sleep in, and get stuff done that I don't normally have time to do.
I really want to go this year because they are having the Battle of the Bands and it is actual bands not just people that think they are a band. They had to send in demo's and be picked to even be in the battle. SO! We'll see if we get a chance to go.
I'm getting my carpet cleaned in about 20 minutes...and very excited about that. Nothing like good clean carpets in your house!! Its been a great day. No school, got some big MK orders, bj finished the taxes, my MIL is giving me her Motorolla 35mm camera with all the lenses, talked to my best pal, felt the babe move AGAIN!!! Whohoo...its a great day in my books :)
Hope you all have one as well!