Superbowls and Home, Sweet Home
I must say that I am soooo glad that the Groundhog did NOT see his shadow because I am so so so so tired of this wet and cold, nasty weather..UGH! I am ready for spring...not too hot...not too cold. Perfect for days at the zoo and swinging at the park. I can't wait! I can, on the other hand, wait for the mosquitos and blazing Texas heat and humidity.
Sunday we had a Superbowl party and it was great fun to see friends, we learned a new card game "Nerts" from Britton, and wrestled with crazy children until I wore myself into the ground...literally. Deb and Colton were there and he was tackling me and tickling me...such fun! Hayden and Colt played so good together and they had so much fun. Poor Colt did NOT want to leave...and Hayden passed out before the game was over.....Colton was so cute. He kept calling Hayden a "him"...which in my books is completely unacceptable, no matter how cute you are or who your mamma is :) Oh and once he called me "LindsayBJ" ...haha.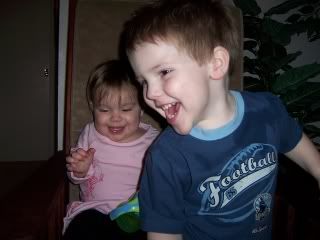 I also learned that I have a bit of OCD in certain areas....it came out during the game of Nerts because I was seriously struggling to play because all of the cards were not straight in the middle. Instead they were heaped into a big jumble that was prohibiting my mad-gaming skills. It was very interesting to see that side of myself.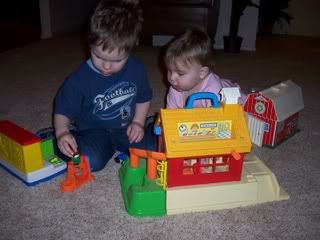 Hayden also wore herself into the ground...she went to bed around 8:30pm..woke up at 7:30am...then went down for her nap at 11am and woke up at 4PM!!!
A FIVE HOUR NAP
!! I was getting a little worried for a while, but she was just sleeping so soundly. Poor thing is cutting three teeth, so its been pretty rough for her lately. That will make 14 teeth for her after these three....
I also must announce that I am officially a Grey's Anatomy fan....I held out for 2 1/2 seasons but I finally gave in after pretty much everyone in the world told me to :) I watched the first five episodes the other night and I'm hooked. I love it! Now if only I can catch up with the rest of the world that is a season and a half ahead of me :(
In other news...for those of you that know we have been really praying and seeking God for a home church for the past 8 months. We have been visiting several churches and just didn't have a peace about which one. So we have finally made our decision a couple of weeks ago and are official members of a church here locally. We are so happy and excited to finally be able to plug in somewhere and be "home". It is such a wonderful feeling and I thank all of you that have been praying for us...we have found our place for this time in our life and we are happy to see what God has for us there.
One last pic for your enjoyment....one of Hayden's favorite parts of the day..bath time!!!