I have been working on a new blog for updates on my grandmother.Click
Here
For those of you that don't know and wonder where in the world I have been. Last Saturday, my grandmother (mom's mom) had a major stroke, leaving her with no function on her right side of her body. She has already began therapy and has regained many functions and is even able to speak in small sentences again. It is very hard to see her that way and know that she is such a vibrant individual. Please pray for full recovery and healing for her.
She was visiting family in Oklahoma when the stroke happened, so me and Hayden and my mom and dad went out there last weekend and returned Thursday night. Then when I got home I had a major ingrown toenail that needed to be removed so I had that taken care of on Friday. It has been a whirlwind and now I'm just trying to get things taken care of here, so that I will be able to help however I can when grandmother returns home.
Thank you all for your prayers and support!
Updates on Hayden, we got her little ears pierced and they are too cute. Thanks deb for going with me. I think I would have chickened out if you weren't there. She is also LOVING solid food. She hasn't turned anything down yet. And she is getting really close to sitting on her own. She is changing so much right under our noses.
I'll post some new pics of her from our trip!
Earrings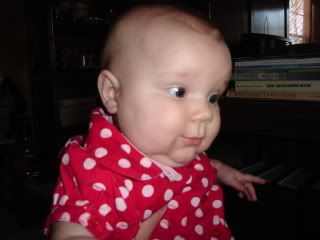 Four Generations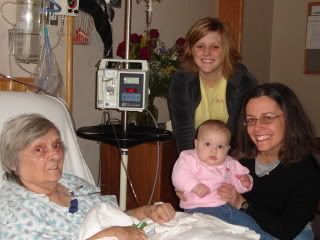 1st Valentines Day...(without daddy ) :(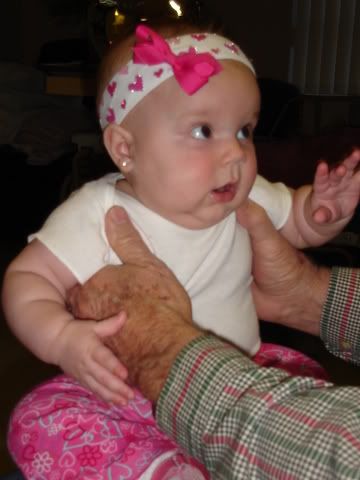 1st trip out of state to OKLAHOMA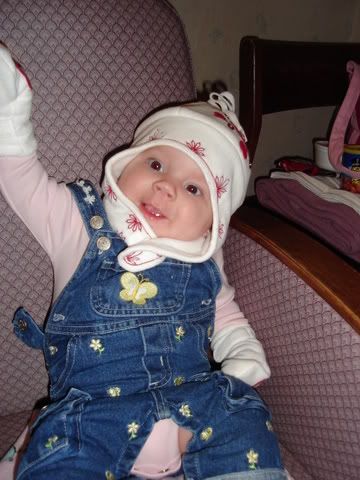 Such a cute smile :)