So this was my last full week of school EVER!!!!!!!!!!!! YEAH!!!!! I love it. We went and got our tassels today. I think they look really cheesy because they have this big 2005 on them. Wierd. I would rather have just had a tassel than ruin it with a plastic chunk of fake gold. Ugh!
Anyway, so I just finished writing my last paper ever!!!!!! And tomorrow is my last Friday class ever. Then one day left, Monday, and here come finals. I am ready for them . I just want to be in ultimate relief mode so that i can relax until graduation .That will be a super sweet feeling. I wish I could bottle it up and sell it.
I think we have decided what color we want to paint the nursery. It is a neutral color that we can doll up or masculinize. Here is a picture of it. I love this bedding too. It could work for a boy or girl and we could just add pink or blue accents to it. We shall see...but I love the green walls.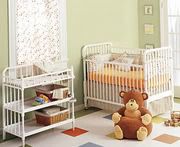 Oh I just can't wait to find out what we are having! Actually I can't wait to meet the little one. :) That will be such a great day to finally meet the little one that has been rolling around inside me all this time. What a cool thought. Only 4 1/2 more months . At least the move and setting up house and all that stuff will keep me busy for a while. Plus we are going to go on a small vacation in July. Last hurrah, graduation celebration and anniversary all rolled into one. That will be fun.
Well I guess I will sign off!! Ta Ta!